piazzolla / apríl - máj - jún 2021 / program festivalu
sunday
18/4/2021 20.20
Lumier - online
The Years of the Shark / Roky žraloka
slovak online premiere movie about A. Piazzolla
réžia: Daniel Rosenfeld / 2019
read more >
"Mali by ste poznať celú pravdu. Môžem vám porozprávať anjelskú verziu, ale tá nie je pravdivá. Môj príbeh v sebe mieša diabla aj anjelov so štipkou krutosti. Ak to chcete v živote niekam dotiahnuť, musíte mať z každého trochu."
Astor Piazzolla
Úvodné podujatie festivalu dedikovaného Piazzollovi pripravili Konvergencie v spolupráci s Kinom Lumière. V nedeľu 18. apríla o 20:20 si bude možné v slovenskej online premiére pozrieť oceňovaný dokument The Years of the Shark (Roky žraloka) režiséra Daniela Rosenfelda, ktorý použil archívne záznamy, snímky zo súkromného rodinného archívu i rozhovory s Piazzollovými deťmi, aby vykreslil živý portrét vášnivého a originálneho umelca, ktorý sa vzoprel tradíciám, aby navždy zmenil svet hudby. Online premietanie filmu so slovenskými titulkami sa uskutoční v rámci cyklu PRÍBEHY UMENIA na portáli www.kino-doma.sk. Film je možné sledovať len na území Slovenskej
streda
26/5/2021 19.00
Courtyard of the Primatial Palace
Balada para un loco​
reading from the Natalio Gorin's book Astor Piazzolla: A Memoir
Robert Roth / Boris Lenko
read more >
""My music is new, it's music of this century, music where you can smell the tango. That's why the world liked it so much.""
Here you can learn in his own words about the life of Astor Piazzolla (1921 – 1992), charismatic artist, hell-raiser, bon vivant and globetrotter, who managed to combine such apparently different worlds as the Argentinian tango and classical music.
About Piazzolla's childhood in his native Argentina, his experiences as an emigrant in New York, his study of classical music in Paris; about his hopes, disappointments, loves, and above all his burning passion for music: you will hear all this in the joint programme of the actor Robert Roth and the accordionist Boris Lenko, one of the pioneering performers of Piazzolla's works in Slovakia.
The selection of texts from Natalio Gorin's book Astor Piazzolla: A Memoirwhich appeared during the final years of the composer's life, was prepared by Andrej Šuba. The event is part of the programme of Convergences, the international festival of chamber music, which the Slovak Arts Council has supported from public funds. 
sunday
30/5/2021 18.00
PRESUNUTÉ: KLARISKY & online stream
milonga per tre
Piazzolla's music in the arrangements by Sérgio Assad
Ondrej Veselý, Martin Krajčo, Peter Biely, Jozef Lupták, Boris Lenko
read more >
Ondrej VESELÝ, guitar
Martin KRAJČO, guitar
Peter BIELY, violin
Boris LENKO, accordion
Jozef LUPTÁK, cello
PROGRAM
Astor PIAZZOLLA (1921 – 1992) 
Revirado (arr. S. Assad)
Escualo (arr. S. Assad)
Invierno Porteño (arr. S. Assad)
Ausencias (arr. S. Assad)
Fuga y misterio (arr. S. Assad)
Decarissimo (arr. S. Assad)
Fugata (arr. O. Veselý)
Fracanapa (arr. S. Assad)
Milonga per tre (arr. S. Assad)
Zita (Suite Troileana, arr. S. Assad)
Tango II (Tango suite)
The garden of the Albrecht House, a cult place in Bratislava's musical life, which thanks to the Albrecht Forum Association has again become a centre of art, will be the venue for a performance of Piazzolla's music as part of Convergences Festival. The performers will be two well-known Slovak guitarists, Ondrej Veselý and Martin Krajčo, violinist Peter Biely, accordionist Boris Lenko and cellist Jozef Lupták. The Argentinian composer's work will be heard at the concert in arrangements by the world-renowned Brazilian guitarist Sérgio Assad. Part of the programme is a movement from Tango suiteTango suite, which Piazzolla originally composed for Sérgio and Odair Assad. Incidentally, this outstanding guitar duo, much admired by Piazzolla, began their international career in Bratislava, with a victory at the Bratislava Music Festival Young Performers' Tribune in 1979.     
sunday
30/5/2021 19.30
PRESUNUTÉ: KLARISKY & online stream
five tango sensations
Boris Lenko, Konvergencie Quartet (Marián Svetlík, Peter Biely, Martin Ruman, Jozef Lupták)
read more >
Boris LENKO, bandoneón
Konvergencie Quartet
Marián SVETLÍK, 1. husle
Peter BIELY, 2. husle
Martin RUMAN, viola
Jozef LUPTÁK, cello
Programme 
Astor PIAZZOLLA (1921 – 1992)
Five Tango Sensations (1989)
Asleep
Loving
III. Anxiety
Despertar
Fear
Suita Five Tango Sensations pre bandoneón a sláčikové kvarteto vznikla v roku 1989. Astor Piazzolla vytvoril toto nádherné dielo pre známy americký súbor Kronos Quartet, s ktorým päť poetických hudobných esejí o smútku a láske o dva roky neskôr v New Yorku aj nahral. Skladba Five Tango Sensations sa stala Piazzollovou poslednou štúdiovou nahrávkou. "Posadili sme sa a hrali. Nikdy predtým sme dielo nenahrali rýchlejšie a asi sa nám to už ani nepodarí," spomínal neskôr na koncentráciu a atmosféru vážnosti, ktorá prípravu nahrávky sprevádzala, huslista Kronos Quartet David Harrington. Kompozícia, ktorú kritika nazvala "dielom tragickej krásy", zaznie na festivale Konvergencie v Záhrade Domu Albrechtovcov v interpretácii Borisa Lenka a zoskupenia Konvergencie Quartet. Výťažok z koncertu bude venovaný na obnovu pamiatky, o ktorú sa stará o.z. Albrecht Forum.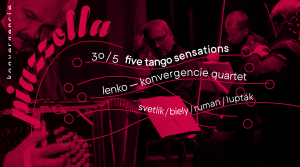 monday
31/5/2021 19.00
Great Concert Hall of the Slovak Radio & online
ChamberJam quintet / extasis
koncert kvinteta svetoznámeho bandoneonistu marcela nisinmana - piazzollovho priateľa a žiaka
Marcelo Nisinman, Daniel Rowland, Zoran Marković, Natacha Kudritskaya, Alberto Mesirca
read more >
Marcelo NISINMAN, bandoneón
Daniel ROWLAND, husle
Alberto MESIRCA, gitara
Zoran MARKOVIĆ, kontrabas
Natacha KUDRITSKAYA, klavír
In the summer of 1988, Astor Piazzolla was visited by a young bandoneonist who was interested in the study of composition.I remember that he lived in a forest. I got out of the car, and the family was waiting for me round the corner. He didn't have a bell, so I clapped my hands, because there's never enough applause and he deserved it,t," was how Marcelo Nisinman later remembered their first meeting. The friendship of Marcelo Nisinman and Astor Piazzolla began with a conversation on Bach's music and Glenn Gould, and lasted until the composer's death in 1992. Marcelo Nisinman has performed with such legends of tango as Roberto Goyenche, Susana Rinaldi and Amelita Baltar, and also with world-renowned classical and jazz musicians (Gidon Kremer, Sérgio and Odair Assad, and Gary Burton). At Convergences he will tell the story of tango via Piazzolla's music and his own compositions. Prepare yourself for a musical ecstasy.  
Programme
Marcelo Nisinman (1970)  
Hombre Tango 
Daniel's Tango 
Astor Piazzolla (1921 – 1992)
Milonga del angel 
Marcelo Nisinman   
Pourquoi tu te lèves
Astor Piazzolla
Romance del diablo 
Introduccion al Angel 
Vayamos al Diablo 
Violentango (úprava pre kvinteto M. Nisinman)   
Extasis 
Escualo 
Kicho 
Milonga en re (for Violin, Piano and Double Bass) 
Oblivion (arr. M. Nisinman) 
C'est fini (arr. M. Nisinman)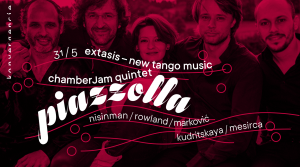 utorok
1/6/2021 11.00
Divadlo P. O. Hviezdoslava & online stream
diskusia / marcelo nisinman
svetoznámy bandoneonista, piazzollov priateľ a žiak
v rozhovore s Oliverom Rehákom, Jozefom Luptákom a ďalšími členmi ChamberJam Quintet, Danielom Rowlandom a Albertom Mesircom (v anglickom jazyku)
friday
4/6/2021 19:00
Štúdio L+S (19:00 rozhovory o hudbe, 20:00 koncert, 22:00 online premiéra)
hora cero
late night concert
Ladislav Fančovič, Juraj Griglák, Jozef Lupták, Stanislav Palúch, Boris Lenko, Martin Chovanec
read more >
Hora cero. Astor Piazzolla thought of midnight as "hour of the absolute end and the absolute beginning". This magical time is also in some of his titles: his 1960s composition Buenos Aires Hora Cero and a legendary album Hora Zero from 1986, which this genius of Argentinian tango regarded as one of his best. A reviewer in Rolling Stone magazine admired the fusion of contemporary classical music and jazz in this recording, with an energy he compared to rock and roll. Piazzolla's co-performers recall that the magic of Hora Zero emerged from their long-standing friendship. This night-time concert too will have a magical atmosphere; it will feature outstanding Slovak musicians who have been moving for many years in the world of jazz and classical music, with a dramaturgy created for Convergences Festival by the accordionist Boris Lenko.
Interpreti
Boris LENKO, bandoneón
Martin CHOVANEC, bandoneón
Stanislav PALÚCH, husle
Jozef LUPTÁK, cello
Juraj GRIGLÁK, kontrabas
Ladislav FANČOVIČ, klavír 
Astor PIAZZOLLA (1921 – 1992)
Adiós Nonino
Ave Maria 
Buenos Aires Hora Cero 
Tango Apasionado 
Escualo 
Milonga del Ángel  
La Muerte del Ángel 
Resurrección del Ángel 
Oblivion 
Libertango 
Vardarito  
Tango Diablo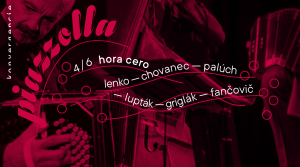 friday
11/6/2021 19.00
Divadlo P. O. Hviezdoslava & prenos naživo v kine Torysa, Sabinov
Concierto para Quinteto
cuatro estaciones porteñas in original version, Slovak premiere of the concert for quintet, works by piazzolla, p. zagar, s. paluch
ALEA (B. Lenko, S. Palúch, D. Buranovský, J. Krigovský) Adriena Bartošová, Miloš Železňák, Martin Chovanec
read more >
Concierto para Quinteto
ALEA
Boris LENKO, akordeón, bandoneón
Stanislav PALÚCH, husle
Daniel BURANOVSKÝ, klavír
Ján KRIGOVSKÝ, kontrabas
hostia:
Adriena BARTOŠOVÁ, spev
Miloš ŽELEZŇÁK, gitara
Martin CHOVANEC, bandoneón
PROGRM
Astor PIAZZOLLA (1921 – 1992)
Las Cuatro Estaciones Porteñas (The Four Seasons of Buenos Aires/Štyri ročné obdobia v Buenos Aires)
I. Verano Porteño (Buenos Aires Summer/Leto)
II. Invierno Porteño (Buenos Aires Winter/Zima)
III. Primavera Porteña (Buenos Aires Spring/Jar)
IV. Otoño Porteño (Buenos Aires Autumn/Jeseň)
Concierto para Quinteto
Che, tango che
Yo soy María
Vuelvo al Sur
Rinascerò (Preludio para el Año 3001)
Escuelo
Michelangelo '70
El motivo
Peter ZAGAR (1961)
Con passione
Stanislav PALÚCH (1977)
Peťango
Der Badkhen Freylakh
"In the musical event called Alea, it is not important which direction the freedom that approaches is heading for; what matters is that this auspicious body of musicians "zieht uns hinan", raises us above ourselves, gives us a dimension that we had no intuition of before hearing this music."
Jozef Piaček
ALEA, an ensemble which the accordionist Boris Lenko founded in 2001, is among the pioneers in the presentation of Piazzolla's music in Slovakia. In a programme created specially for Convergences Festival, there will be a performance in the original quintet version of The Four Seasons of Buenos Aires, the composer's famous homage to the city of Buenos Aires and the Italian Baroque genius Antonio Vivaldi. Also part of the dramaturgy will be Piazzolla's Concierto para Quinteto (1971), the composer's songs with singer Adriena Bartošová, including the title song from Piazzolla's opera María de Buenos Aires, and works by the Slovak composers Peter Zagar and Stanislav Palúch which were written for ALEA.
saturday
12/6/2021 19.00
Veľké koncertné štúdio Slovenského rozhlasu & online len naživo
Slovak tangos
interpreted by the Bratislava Hot Serenaders Orchestra & Milan Lasica
Bratislava Hot Serenaders, Juraj Bartoš, Milan Lasica
read more >
"Slovenské tango, jasné pravidlá, slovenské tango, orchester každý hrá, slovenské tango, nevrav, že ho nemáš rád," spieval Richard Müller v piesni, ktorú napísal spolu s Andrejom Šebanom na album skupiny Banket Druhá doba v roku 1988. Kultový text s dávkou sarkazmu a irónie mohol vzniknúť vďaka fenoménu "slovenského tanga", ktorý v originálnej podobe na Konvergenciách predstaví orchester Bratislava Hot Serenaders pod vedením Juraja Bartoša. Na koncerte, ktorého vzácnym hosťom bude aj pán Milan Lasica, zaznejú najkrajšie slovenské tangá od Ernsta Genersicha, Karola Elberta, Pavla Čádyho, Franka Zemplínskeho, Viktora Freyera, Dušana Pálku a, samozrejme, Gejzu Dusíka v pôvodných aranžmánoch tak, ako boli premierované v 30. a 40. rokoch 20. storočia. Bratislava Hot Serenaders rozhodne nehrajú "slovenské tango" ako každý orchester, príďte sa presvedčiť.